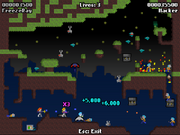 Click Here to Play In-Browser (Flash)
Developer Credits:
Chris DeLeon: Programming, Core Design, Project Lead, EraserBot, Specials
Colton Spross: Levels, Enemy (ElectroMedusa), Weapons (BodyRemover, FreezeRay, StickyBomb)
Carson Britt: Levels, Enemy (MagnetBot), Weapons (Corroder, Hacker)
Patrick Coursey: Levels, Enemies (Leaper, Enforcer), Weapon (Shield), Writing
Peter Aquila: Levels, Enemy (RepairBot), Weapon (QuantumGun)
Larry Smith: Levels, Enemy (Bomber), Weapon (Laser), Music, Sounds, Title Art
Hal Helms: Music and Sounds
Lamine Sissoko: Music and Sounds
Johan Soriao: Music and Sounds
John Nesky: Additional Sounds

Playtesting:
Mariam Asad, Humberto "El Jefe" Cervera, Rose Peng, Phat_Joe, David Simoes, Bobby Schweizer, Max Symmes
Ad blocker interference detected!
Wikia is a free-to-use site that makes money from advertising. We have a modified experience for viewers using ad blockers

Wikia is not accessible if you've made further modifications. Remove the custom ad blocker rule(s) and the page will load as expected.