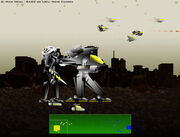 Click Here to Play In-Browser (Flash)
Developer Credits:
Chris DeLeon: Lead, Programmer, Gameplay, Animation
Andrea Benavides: Interface Art & Design, Plane/Tank Art
Vu Ha: Mech Artist
Hank Whitson: Writing Lead, Weapons and Unit Concepts, Names
Aaron Yip: Background Art, Additional Writing/Design
Andrew Ho: Sound Effects, Additional Writing
Nic Vasconcellos: Addl. Interface Design
Natahn Bailey: Addl. Visual Effects
Kevin MacLeod: Music (Creative Commons)
Ad blocker interference detected!
Wikia is a free-to-use site that makes money from advertising. We have a modified experience for viewers using ad blockers

Wikia is not accessible if you've made further modifications. Remove the custom ad blocker rule(s) and the page will load as expected.